HowTo: Setup a Palace server
Welcome to the Palace Building Quick Guide, in this guide we will explain a few simple basics techniques you need to know to get you started with Palace Building. The Palace Builders Guide is a general purpose guide for Palace Owners that just started out. If you are looking for a more technical and detailed information we recommend you check out the Palace Server manual when your finished with this one. Just click the Server button in the top menu.
What does all of that stuff mean in my pserver window?
When you start up your pserver, this window below is what you will see with Ver 4.4 for Windows.
hen the server boots up, you can see the welcome message, its read the prefs file, the pat file, tells you how many rooms it has loaded from that pat file. The log window will also tell you what your IP addy is (if you are on a network, that wont be your true IP), and you will see it register with the Palace Live directory.
There are quick launch buttons at the top. By clicking "Visit This Palace" you will auto open your client and log onto your pserver. There is also this option in the menu bar under Options.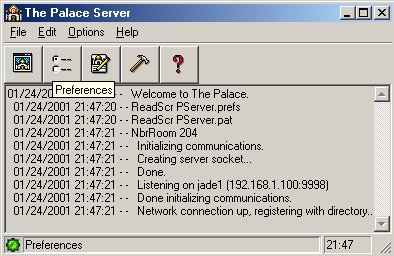 Preferences will open the window where we can make all of the changes that we are going to need to that are covered later on this page. You can't click use this to edit your site page anymore. This used to be a service from Communities.com, if you want to be listed in the Palace Directory you need to add your server to the live directory please read THESE instructions to find out how.
This opens an app that allows you to make changes to your pat file and view the rooms in there. I prefer pat buddy which is an addon to LogHelp you can find at www.ali-co.org for free now!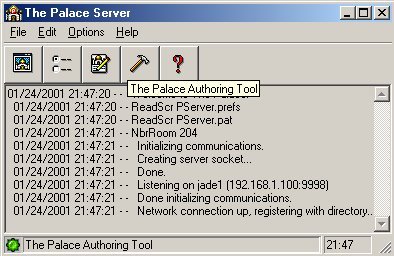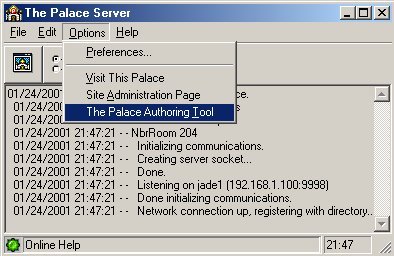 For help and support it is a good idea to subscribe to the Palace Server Yahoo Group where knowledgable people can answer any questions you have pertaining to anything palace related. You can go to the yahoo site or signup right here:
Of course the Palace Planet PalaceBuilders Forums are another great resource for answers and great user tips. Check them out its very easy if you use the SEARCH to look for answers.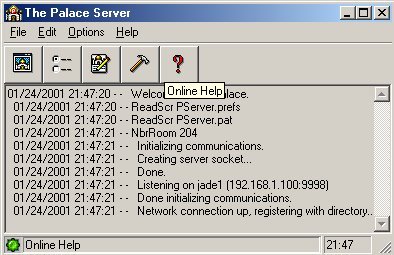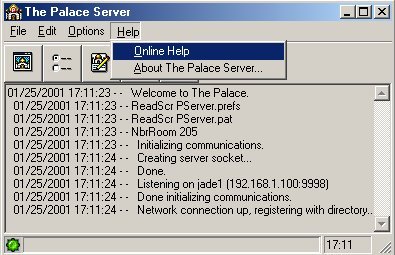 If you want to keep a log of what goes on in your palace, click this and it will bring up another menu that you can see below, where you can name this log and where to save it to.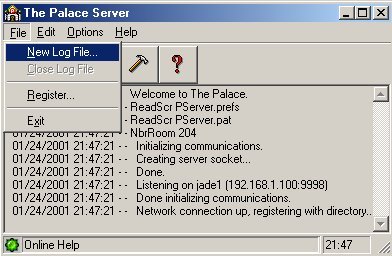 You need a registration code to run a pserver. If you have just installed the Palace server and it asks you for a registration code you can use this one:
6DV3K-PVY6F-RF2VT-QFG8S.
It will give all users, even unregistered ones, the ability to wear props (avatars) and does not limit the amount of users you can receive. (this can be limited by your connection and / or computer resources)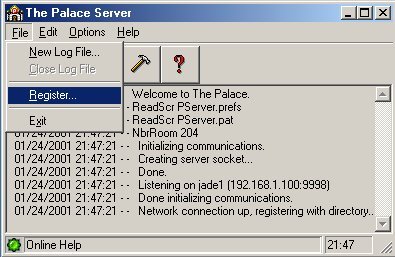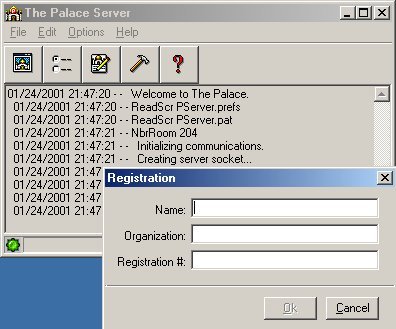 By clicking this....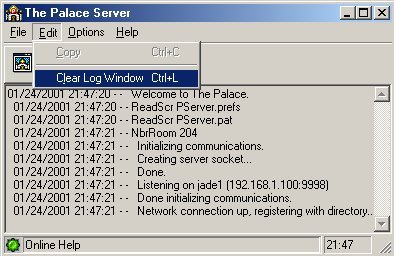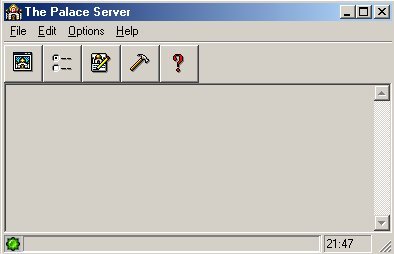 You get a cleared log window like this.....
Final note: to make your Palace more accesible for other users its a good idea to get a dynamic DNS redirect. Click HERE for instructions. If your having trouble getting people to connect please check the Palace Planet Palacebuilders Forum there are several explenation on how to fix connection problems.
To continue with the Palacebuilders Guide and learn about your Palace planinng, Palace premiere and wizards uni click here or just click the Builders button in the top menu anytime you like.